Events mark death of World War II pilot John Gillespie Magee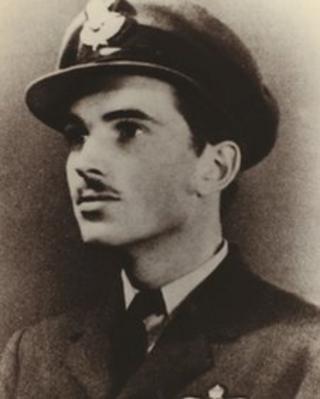 American and Canadian RAF personnel are to visit Lincolnshire to mark the 70th anniversary of the death of a World War II pilot, famed for his poems.
John Gillespie Magee served with the Royal Canadian Air Force (RCAF) 412 Squadron at RAF Digby, near Sleaford, and is known for his poem High Flight.
Magee is said to have been inspired to write the verse after flying a high-altitude test flight in his Spitfire.
He died on 11 December, 1941 in a collision with another aircraft.
John Gillespie Magee was a US citizen who crossed the border to Canada when he was 18 to join the RCAF.
Within a year, he was sent to England and posted to the newly formed 412 Fighter Squadron, which started operations at Digby on 30 June 1941.
His role was to fly fighter sweeps over France and provide air defences over England against the German Luftwaffe.
On 3 September 1941, Magee flew a 30,000ft test flight in a newer model of the Spitfire V.
He later died, aged 19, in a mid-air collision with an Oxford Trainer from Cranwell, flown by Ernest Aubrey.
He was buried at Scopwick Cemetery, near Digby, on 13 December, 1941, where his coffin was carried by pilots from his own squadron.