Skegness railway station revamp nears end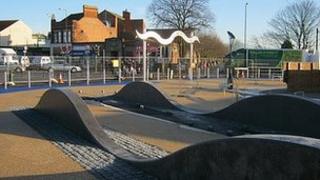 A facelift for a Lincolnshire railway station is close to being completed.
The £720,000 project to modernise Skegness station had faced criticism because some of the town's oldest buildings had to be demolished.
Campaigners said the station master's office was a valuable piece of heritage but the county council said it made the area look run down.
The work has created a plaza-style forecourt with a large glazed wind break enclosing most of the area.
The county council, along with East Midlands Trains, Network Rail and the European Regional Development Fund have jointly backed the scheme, which began in January.
'Adventure playground'
Many of the original buildings had stood derelict for years and some residents complained it gave a poor first impression of the town.
Anita Ruffle, county council transport manager, said: "For many years I was really disappointed that we had one million passengers a year going through Skegness station and the first sight they would have were derelict buildings, very dark and damp.
"It is not a good impression and it is not a good way to make our tourists come back.
"Now they will see a nice, bright open space which is much more inviting"
She added access would be better managed to avoid long queues at peak times.
A statue of the Jolly Fisherman, the resort's mascot, will be retained.
Wave-themed sculptures, a giant model sandcastle, along with new seating and signage have also been added.
The renovation is part of a £21m investment in the Boston to Skegness line.
John Byford, from the Skegness Civic Society, said: "Skegness has lost so many of its historic buildings it would have been far better to restore what was there.
"I'm not sure if what has been put in its place will grow on me but it looks like an adventure playground - I'm sure the kids will love it."
Work is due to be completed in the new year.