Red Arrows flights suspension lifted after ejector seat death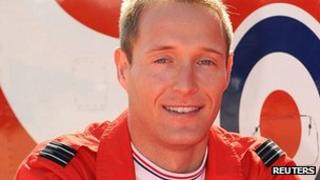 The Red Arrows have been cleared to fly again after a safety review prompted by a pilot's ejector seat death.
Flt Lt Sean Cunningham, 35, was killed after being ejected from his plane while it on the ground at RAF Scampton in Lincolnshire, on 8 November.
All the RAF's Hawk T1 aircraft were grounded after the accident.
The Ministry of Defence said it has no remaining concerns following the review of the ejection seat system on the Hawk T1 aircraft.
The MoD has authorised the resumption of all Hawk T1 flying operations without restrictions.
After the accident all but vital flights in planes with similar ejection seats were stopped.
The Tucano and Hawk T Mk2 aircraft were cleared to fly following safety checks to their ejection seat systems on 28 November.