Schools shut and hundreds attend rally over pensions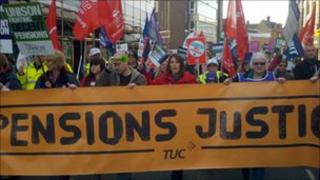 More than 100 out of 367 schools and academies in Lincolnshire have been closed as staff took action over public sector pensions.
About 500 people attended a rally at Drill Hall in Lincoln to protest against government plans to reform public sector pensions.
The 24-hour walkout caused disruption to services across the county.
The government said with people living longer, reforms to public sector pensions were desperately needed.
Chancellor George Osborne said: "The strike is not going to achieve anything, it's not going to change anything."
In Lincoln, about 500 people took part in a march from Tentercroft Street car park to the city's Drill Hall.
Speaking at the rally, Nick Parker from the Public and Commercial Services (PCS) union said: "The government says we should work harder for less but I say no to working longer and no to poverty in retirement.
"The NHS, free state education and benefits are all under threat. We are sending a clear message that they need to keep their grubby hands off our pension."
Chris Walls, head teacher at the Giles Academy in Old Leake, near Boston, said: "My teachers have had a lot of difficulty in reaching the decision that they've made to come to work today.
"This is a very legitimate claim against the government and as employers they should not be trying to change the contracts of teachers and other public sector workers without their consent.
"Let's take the government to the High Court for 10 years - I'd pay another £100 a year and I'm sure other teachers would.
"Over a 10-year period that would be £500m and I think that's enough to pay a few barristers."
Lincolnshire County Council said more than 300 workers at the authority took part in the industrial action. This equates to about 10% of the workforce.