Tidal wave separates seal pups from mothers at Donna Nook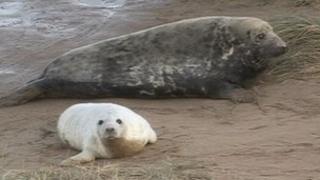 One of the largest grey seal reserves in the UK has been closed to visitors after a tidal wave separated seal pups from their mothers.
Lincolnshire Wildlife Trust said it had closed Donna Nook reserve to allow the seals a chance to find each other.
Rachel Shaw, from the trust, said the seals needed peace and quiet.
She said the trust was also concerned for public safety as many of the seals had gone through a broken fence into a public viewing area.
"Last night we had the highest tide at Donna Nook that our warden has ever witnessed and we have had damage to our footpaths and parts of the fence that separates people from the seals," she said.
"It has also caused massive displacement of the seals - they are spread over a much larger area than normal and a lot of the mothers have been separated from their pups.
"We need to give the seals time away from people - we are concerned that there will be pups that have been abandoned just because their mothers can't find them again."
More than 1,000 seal pups have been born at Donna Nook this year.
Staff at the reserve said they would continue to review the situation and hoped to reopen the public viewing area as soon as possible.