Lincoln clubber William Pleasants' death 'unlawful'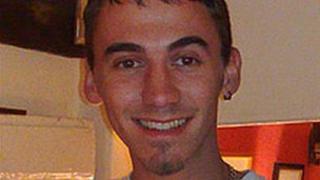 A man who died after he was thrown out of a Lincoln nightclub and restrained by bouncers was unlawfully killed, an inquest has found.
William Pleasants, 23, from Barrington, Cambridgeshire, stopped breathing outside the Engine Shed at the University of Lincoln in 2008.
He died at Lincoln County Hospital three days later, the inquest at Lincoln Crown Court heard.
A jury of three men and eight women returned a verdict of unlawful killing.
The hearing was told Mr Pleasants, who had a pre-existing heart problem, was ejected by bouncers and then subjected to physical restraint in October 2008, while celebrating his girlfriend's birthday.
He suffered a cardiac arrest while being restrained, the inquest heard.
'Reviewing the case'
Summing up, Deputy Coroner Richard Marshall said that although the 23-year-old had been under the influence of alcohol and drugs it was the compression which was most likely to have led to the cardiac arrest, and "sealed his fate".
Police called to the scene found him lifeless and immediately summoned an ambulance.
Six bouncers arrested over the death were subsequently released without charge.
Lincolnshire Police said the investigation would now be reopened.
Supt Rick Hatton said: "In the light of the evidence heard at the inquest we will now be reviewing the case."