Branston road named after pilot William George Cooper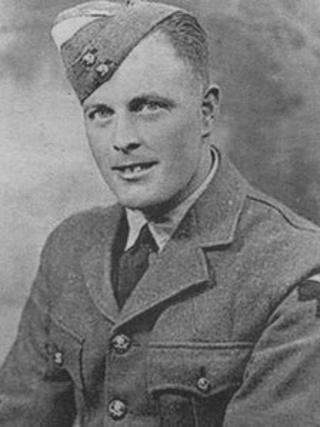 A World War II pilot who died saving his crew in 1943 has had a road named after him in a Lincolnshire village.
Flying officer William George Cooper ensured his comrades parachuted from their Stirling bomber after it had collided with another aircraft.
He told them he would follow them but instead tried to land the plane which eventually crashed into a field.
Cooper Close, in Branston, was officially named by North Kesteven District Council on Tuesday.
Mr Cooper lived in Branston with his wife Esther at the time of his death.
'Absolutely thrilled'
Mr Cooper's nephew Bill Shaw attended the ceremony and gave a speech about his uncle.
He said: "I am absolutely thrilled that my uncle's name will live on. It's wonderful way to honour his name.
"He's been my hero all my life."
Branston Village postmistress Joyce Northey, who was also at the ceremony, was 16 when she delivered the telegram to Mr Cooper's wife Esther with the news of his death in 1943.
She said: "I was too young to understand the enormity of it at the time. But it is a sad thing to think about today."
Representatives from RAF Waddington, Conningsby and Cranwell attended the official street naming and handover ceremony.
Members of the 214 Squadron Association, Mr Cooper's former squadron, also attended the ceremony.