Inquest hears Red Arrows pilot died from fall injuries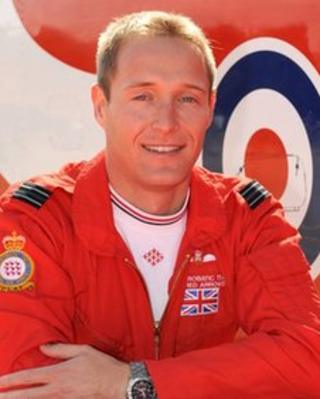 A Red Arrows pilot died from multiple injuries after being ejected from an aircraft, an inquest has heard.
Flt Lt Sean James Cunningham, 35, was killed when he was ejected from his Hawk T1 while on the ground at the Red Arrows base at RAF Scampton in Lincolnshire on 8 November.
The inquest heard the ejector seat went off but the parachute did not deploy.
Flt Lt Cunningham died after falling from a height and hitting the ground, still strapped to his seat.
The inquest into the pilot's death was opened and adjourned at Lincoln.
Det Supt Shaun West, from Lincolnshire Police, told the coroner he was investigating what had happened, looking at specifically why the ejector seat activated and why the parachute mechanism did not work as it should have done.
A Lincolnshire Police spokesperson added it was "standard practice" in the case of a death in unusual circumstances for them to lead the investigation and report back to the coroner.
The funeral of Fl Lt Cunningham will take place on 1 December at Coventry Cathedral, followed by a private family cremation.
Air show
The Ministry of Defence implemented a ban on non-essential flying in aircraft with ejector seats similar to those in the Hawk T1 after Flt Lt Cunningham's death.
The ban was lifted for Tornado attack jets but remains on Hawk T1, Hawk T2 and Tucano flights while the RAF reviews evidence on those aircraft.
Flt Lt Cunningham lived in Coventry and attended Nottingham Trent University before joining the airforce in 2000.
He was born in Johannesburg, South Africa, and moved to the UK in 1986 at the age of nine.
He was involved in several operational tours over Iraq.
The accident came less than three months after another Red Arrows pilot, Flt Lt Jon Egging, 33, was killed after an air show in Dorset.
His aircraft crashed on 20 August, after performing a display with the Red Arrows watched by his wife.
The RAF temporarily halted flights on all 126 of its Hawk T1 training jets while preliminary investigations were carried out into the cause of the earlier tragedy.