Immigration law change call after axe killer convicted over moped death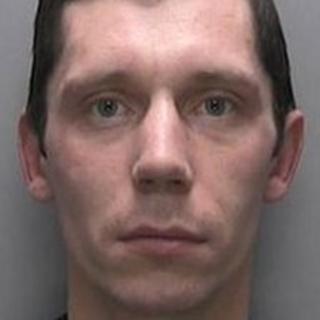 Two MEPs have called for a change in immigration laws after a Latvian axe murderer was found guilty of killing a moped rider in Lincolnshire.
Valentina Planciunene, 37, of Boston, died when she was hit by a car driven by Intars Pless, 34, on 15 February.
Pless has a previous conviction for killing a drinking companion in Latvia.
MEPs Roger Helmer and Bill Newton Dunn have said criminals convicted of serious offences should not be allowed to move freely around the EU.
Referring to the case of Pless, Conservative MEP Mr Helmer, who represents the East Midlands, said: "Britain ought to be able to refuse admission to people where we know they have a criminal record of that kind."
East Midlands Liberal Democrat MEP Mr Newton Dunn said he agreed with Mr Helmer and said police forces in different European countries did not co-operate enough.
Failed to stop
"There's no co-operation, there's no enforcement at our borders, so what we're talking about is a nice idea but will not happen."
Lincolnshire Police said the entry of foreign nationals into the UK was an issue for the UK Border Agency.
In a statement, the force said: "There is no automatic notification to police forces of the person's previous criminal convictions.
"A person who has a previous foreign conviction may not come to the attention of their local force unless they are arrested for a crime committed here and brought into custody."
The Border Agency said the onus for flagging up someone's criminal history lay with the police in their home country.
Pless, of Hilda Street, Boston, was remanded in custody at Lincoln Crown Court on Monday and will be sentenced next month.
The jury found the Latvian, who was twice over the drink-drive limit, guilty of causing death by dangerous driving, driving with excess alcohol and failing to stop at the scene of an accident.