Lincoln clubber William Pleasants 'died from restraint'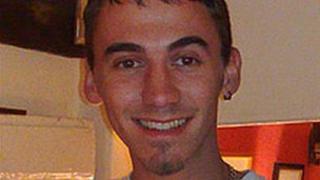 A man who died outside a Lincoln nightclub in 2008 would have lived if he had not been restrained by door staff, a pathologist told an inquest.
Home Office pathologist Guy Rutty said William Pleasants, 23, died as a result of a lack of oxygen to his brain following a cardiac arrest.
Mr Pleasants, who was under the influence of drugs and alcohol, had a pre-existing heart problem.
He was taken to Lincoln County Hospital where he died three days later.
Ejected from club
Mr Rutty said: "The restraint is the underlying cause that resulted in his cardiac arrest that caused his death.
"Without the restraint he would not have had the cardiac arrest and he would not have died."
Mr Pleasants, from Barrington, Cambridgeshire, was attending a drum and bass night at the Engine Shed venue to celebrate his girlfriend's 21st birthday.
The jury has heard he was ejected by bouncers and then subjected to physical restraint.
Police called to the scene found him lifeless and immediately summoned an ambulance.
Six bouncers arrested over the death were released without charge.
The inquest hearing continues.