Ex-public schoolgirl Victoria Lister's life as a lorry driver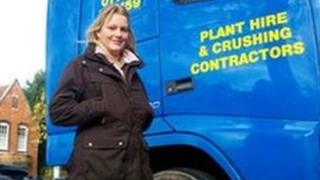 A former £9,000-a-year public schoolgirl from Lincolnshire has rejected a conventional career path by choosing to make a living as a lorry driver.
Twenty-three-year-old Victoria Lister was educated at Witham Hall Preparatory School before moving on to £3,000-a-term Kirkstone House School.
Miss Lister, who is thought to be one of the youngest female lorry drivers in the country, uses her wages to fund her passion for horses.
The former Pony Club member from Langtoft enjoys competing with her horses and only took up driving an HGV as "a back-up plan".
Now she has her own 44-tonne Volvo lorry.
Miss Lister said she had been "up and down the length and breadth of the country" living the solitary lifestyle of a trucker, staying in the lorry overnight and eating at roadside cafes.
She said of her unusual career choice: "I knew I certainly didn't want to work in an office and this was one way of earning some money.
"Mum and I are still busy with the riding stables, doing a lot of teaching as well now. We're hoping to get some more horses and I still do quite a bit of hunting."
When she took the exams to become an HGV driver, passing first time, Miss Lister said she was told she was the youngest woman to have taken them.
But she said it was scary when she had her first taste of being in a truck.
"When I first got into it I don't think I went over 20mph.
"I was very scared about hitting everything but I soon got into it and I know the weight limits and the height of many bridges now.
"One time I did go down a road where I couldn't fit underneath a bridge, so I had to try and turn it around, which proved to be very difficult, but I did manage it and I've learnt from my mistakes."
Social life woes
Miss Lister, who uses her lorry to supply machinery for the Olympic Games, said she was now much more confident.
"At the moment I'm transporting. My mum's partner does sports pitches and he's doing the Olympic Games sports pitches in London, so he's really good at finding the work for me at the moment."
However, Miss Lister does not see truck driving as a long-term career choice and said it had affected her social life.
"Last year I was away all week, every week. At the moment I'm not doing it quite so much, as I didn't have a social life and I got fed up of being out on the roads all the time.
"I don't want to do it forever, I definitely want to do the horses.
"I will always have the lorry, I think. If anyone needs me they can just call me up and I'll go and do a load - but as long as I'm not away all week I don't mind."