'Excessive force' claim at nightclub death inquest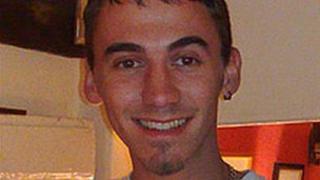 Bouncers used their feet and knees to restrain a man who died after being thrown out of a Lincoln nightclub, an inquest has heard.
William Pleasants, 23, from Cambridgeshire, died in hospital three days after being ejected from the Engine Shed in October 2008.
Witness Sevanne Chisholm said she felt security staff had used "excessive force" to control Mr Pleasants.
Six bouncers arrested over the death were later released without charge.
Mr Pleasants had been celebrating his girlfriend's birthday at the Lincoln University venue on 4 October 2008 when he was thrown out by door staff following an argument with a couple.
'Too much pressure'
He was taken to Lincoln County Hospital after stopping breathing and died three days later.
Ms Chisholm, who was among a group who had travelled from Cambridge with Mr Pleasants, told the inquest at Lincoln's Cathedral Centre that Mr Pleasants had tried to get up but was pushed face down on to the floor.
She said: "I saw a bouncer with his knee on Will's back. Two bouncers had their feet on Will's head. They were applying pressure to hold him down. The bouncers were all much bigger than Will.
"I thought the doormen were a bit over the top. They used far too much pressure given that Will was not struggling. It was excessive force for the two bouncers to have a foot on Will's head."
The eight-day inquest is due to examine the degree of restraint by door staff and whether any alcohol or drugs had been consumed by Mr Pleasants before the incident.