Steep Hill in Lincoln wins best place award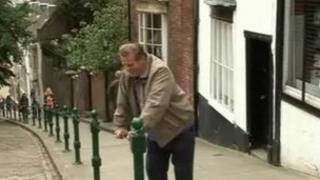 A Lincolnshire street has been named Britain's Best Place by the Academy of Urbanism.
Lincoln's Steep Hill was one of three streets chosen by the academy, whose role is to promote best practice in planning and urbanism.
It was up against Byres Road in Glasgow and Cockburn Street in Edinburgh.
The academy's honorary president John Thompson said the awards were a way for planners and architects to "learn about place".
"It's about what we can learn from places like Steep Hill, so when we come to plan new streets, new neighbourhoods and new towns we can look at the success stories."
Roman built
The street, which as its name suggests has a notably steep gradient, is popular with tourists and locals, and is home to a variety of independent shops.
It was built by the Romans to connect the growing parts of Lincoln - then known as Lindum Colonia.
Mr Thompson said the Romans were "the best place-makers that ever worked in this country" because they understood about place and community.
Michael Armstrong from the Lincoln Business Improvement Group said he was delighted that Lincoln won.
"We've got so much to offer here," he said.
"This street is so unique and here's our chance now to really maximise that opportunity, to tell everyone, to shout it from the rooftops that Lincoln's got the best street.
"A fabulous achievement."