Watchdog concerned over care at Pilgrim Hospital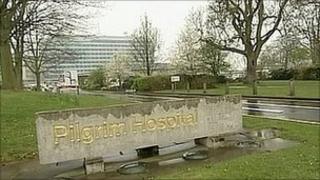 An independent health watchdog has said it still has concerns about standards at a Lincolnshire hospital.
The Care Quality Commission (CQC) has released a third report highlighting areas of concern at Boston's Pilgrim Hospital.
It said the hospital had to "significantly improve" patient experience, staff training and checks that best practices were in place.
The hospital trust said its quality of service was improving.
The chief executive of the United Lincolnshire Hospitals Trust (ULHT), Andrew North, welcomed the report.
'Right direction'
He said he was pleased the report acknowledged the progress made by the hospital, as well as highlighting previous issues.
"I think its important to recognise that the initiatives we have been taking have delivered measurable improvements" he said.
"We are confident that we are moving in the right direction and that the quality of service provided at Pilgrim is improving all the time."
The report highlighted a number of failings by the trust, which included two serious surgical incidents at the hospital.
Clinical errors
On one occasion, the wrong part of a patient was operated on and on another a piece of medical equipment was left inside a patient after an operation.
Dr Angela Gordon, from the CQC, said some of the recommendations from previous reports had not been followed.
She added the organisation could use its enforcement powers to suspend services if the hospital failed to follow recommendations.
The CQC said the key findings of its investigation were about complaints made due to poor care and clinical errors, the monitoring of patient experience and the hospital's dependency on locum staff which resulted in higher staffing costs.
In total, the organisation made 21 recommendations to the trust.