Silver ring found in Sleaford declared treasure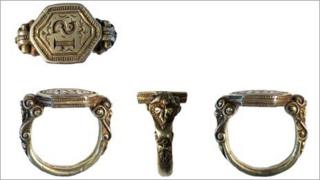 A ring found in a farmer's field in Lincolnshire by a boy using a metal detector has been declared as treasure.
Philip Ingram-Jannetta, 15, of Leasingham, Sleaford, was with a friend when he came across the silver-gilt finger-ring, believed to date from the late 16th or early 17th Century.
The ring is thought to have belonged to a member of the Shaw family, who were wealthy landowners in the county.
The Collection Museum in Lincoln has expressed an interest in buying it.
Lincoln district coroner Stuart Fisher declared the ring as treasure. It is currently being valued.
At an inquest hearing, Philip, who attends St George's College, said he found the ring three inches below the surface in the middle of the Sleaford field.
'Modern junk'
"We had permission to go on the farmer's land and in the middle of the field the detector sounded," Philip said after the hearing.
"I dug down and found the ring. At first I thought it was just a modern junk ring, but when I got it out and had a closer look I could see it was silver. It's the first treasure I've found."
Archaeological finds officer Adam Daubney, from Lincolnshire County Council, said research would be carried out to find out more about the ring's origins, but thought it would have belonged to a "very wealthy person".
"We do know that in the 1700s in the Sleaford area there was a very wealthy landowner by the name of John Shaw," he said
"It's possible that this ring, although it predates the 1700s, belonged to one of his grandsons or one of his relatives."
The ring bears the initials IS, which Mr Daubney said could have been used as a seal.
Under the Treasure Act, items which could be over 300 years old and contain precious metals need to be declared.
Philip said if the ring was sold the money would be shared with Lee Partridge, 17, who was with him at the time, and the farmer.