Lincolnshire Echo publishes final daily edition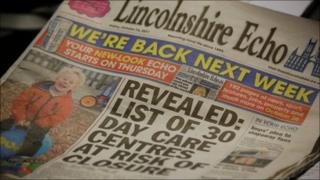 The final daily edition of the Lincolnshire Echo has been published ahead of its relaunch as a weekly.
Daily production of the newspaper is coming to an end after 118 years, in response to a drop in circulation.
Acting editor Steven Fletcher said the new version of the paper, which goes on sale on 20 October, would feature a redesigned layout and new topic areas.
The paper said there had been "a single-figure" number of compulsory redundancies as part of the change.
However, he said none of these were from the Echo's reporting staff.
The newspaper's owners Northcliffe Media said the move to a weekly publication was the best way to secure the Echo's long-term future.
'Attitudes changed'
Echo reporter Leigh Curtis, who has been with the paper for 14 years and whose grandfather worked there for 30 years, said the weekly edition was something to look forward to.
"There's a lot more comment and a lot more analysis delving into the story behind the story and I think that's going to be absolutely crucial," he said.
"I think that's what people enjoy now. Readers' attitudes to newspapers have changed.
"With the advent of the web they like to have a bigger say and obviously when they get involved in debates on the internet and we print them in the paper that's all good."
Newspaper seller James Thomas said he had spoken to readers who he said would "miss it when it goes weekly".
"A big major change but I think it will be a good thing," he said.
"I'll still be here and having chats with customers."
The new edition, which will cost £1 and have an average of 184 pages, will continue to be produced at the newspaper's offices in Brayford Wharf East in Lincoln.