Red Arrows widow takes husband's place on charity ride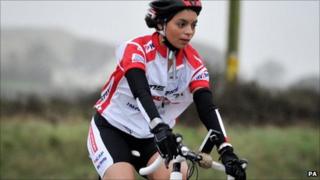 The widow of Red Arrows pilot Jon Egging has taken his place on a 400 mile coast-to-coast charity bike ride across the widest point of the UK.
Dr Emma Egging joins a team from the Red Arrows and the Battle of Britain Memorial Flight for the four-day ride starting at St David's, Pembrokeshire.
Charities to benefit are the RAF Wings Appeal, Fly2help and The Jon Egging Trust.
The riders will finish in Lowestoft, Suffolk on Friday.
Team work
Dr Egging set up the The Jon Egging Trust in memory of her husband.
Flt Lt Jon Egging, who was originally from Southam, in Warwickshire, died when his Hawk T1 aircraft crashed into a field at the village of Throop, near Bournemouth Airport, on 20 August.
A Military Aviation Authority investigation into the cause of the crash is ongoing.
The trust aims to give disadvantaged young people the opportunity to achieve their potential through access to inspirational activities, including flying.
Dr Egging, an academic at the British Museum, said: "I feel immensely proud to be riding in Jon's place for this challenge and will be thinking of him all the way along."
Team rider and Red Arrows pilot Flt Lt Chris Lyndon-Smith, said: "We do everything as a team and we consider Emma to be very much part of the team.
"We are proud to have her onboard," he said.
Dr Egging will ride in the number four position, the number used by husband Jon in the Red Arrows team.