Aiden Jackson guilty of murdering David Cowley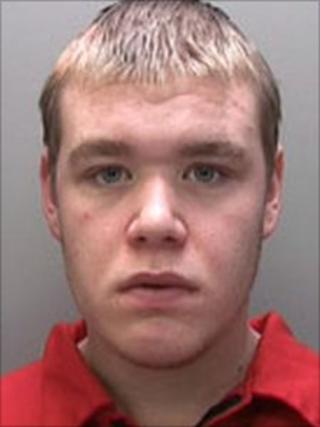 An 18-year-old man has been found guilty of murdering a man he arranged to meet for a sexual act.
David Cowley, of Boston, was found dead off Mareham Lane in Sleaford, Lincolnshire, on 17 November 2010.
Lincoln Crown Court heard Aiden Jackson, of Sleaford, had intended to rob 67-year-old Mr Cowley before killing him.
He had admitted manslaughter but denied murdering Mr Cowley, whose body was found near a disused quarry.
A ban on identifying Jackson, who has turned 18 during the trial, was lifted by the judge.
The court heard Jackson met Mr Cowley, of Broadfield Lane, at Sleaford railway station and was then driven by him to a remote spot at Ballast Pits off Mareham Lane.
Mr Cowley offered Mr Jackson, of The Innings, Sleaford, between £20 and £50 for sex, the court was told.
'Family devastated'
Earlier in the trial Amjad Malik QC, prosecuting, told the jury that the victim was an openly gay man who had offered the cash and mobile phone top-ups to Jackson in exchange for a sexual liaison.
He said Mr Cowley was dragged from his car and punched and kicked by the boy, who had planned to rob him of his vehicle and other possessions before killing him.
A 17-year-old boy was cleared of perverting the course of justice in connection with the case on 20 September.
After the hearing, Det Supt Stuart Morrison said: "We hope this conviction offers some form of closure to the Cowley family and allows them to move on with their lives.
"Aiden Jackson is a young man, his actions have not only led to the death of Mr Cowley and affected his family and friends but they have also ruined his life and devastated his family too. I see no reason to celebrate anything today."
Sentencing was adjourned until 20 October.