Drinking water celebration in Lincoln for centenary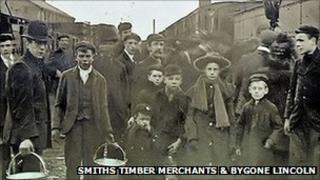 Lincoln is to host a day of celebrations to mark the centenary of the introduction of fresh drinking water to the city.
The events take place on 1 October, exactly 100 years since the Lincoln Corporation started taking water from Elkesley in Nottinghamshire.
Prior to this, 131 people died and more than 1,000 became ill from a water-borne typhoid outbreak in 1904-5.
Organisers said proceeds will go to the international WaterAid charity.
The events have been organised by the Lincoln Water 100 Committee, Anglian Water and the Rotary Club of Lincoln.
'Their water'
Part of the celebrations will include an illustrated exhibition at the Museum of Lincolnshire Life telling the story of Elkesley water.
The exhibition has been organised by Trevor Pacey, author of the book about Lincoln's water supply, To Fetch a Pail of Water.
Mr Pacey said: "The sense of relief in 1911 must have been palpable - the city had a cloud hanging over it from 1905 and was unable to move on until the new supply was on tap.
"The people had been muddling through with heavily treated water, imported water, and what they could get from springs and conduits," he said.
"It took until 1911 to provide the new supply, partly because Nottinghamshire interests didn't want their water to come to Lincoln.
"The dispute went all the way to the House of Lords where Lincoln were eventually enabled by an Act of Parliament to begin the work."
'Still can't rely'
Ciaran Nelson, spokesperson for Anglian Water, said: "Nowadays, we take for granted that water flows readily out of the tap when we need it, and few people ever have cause to question the quality of that water.
"One hundred years ago, the situation couldn't have been more different," she said.
"Given that some people around the world still can't rely on a safe and secure supply of water, it's fantastic that the Rotary Club of Lincoln are using this centenary to help those who remain in need."
Other events include a commemorative spouting of the fountain in the Arboretum on Monks Road - the place where the fountain was originally cranked into action to spout the first Elkesley water by Mayor Newsum in 1911.