Man admits animal cruelty over greyhound deaths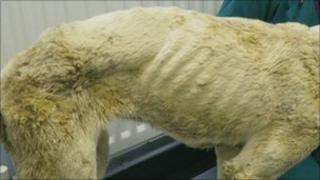 A man who left four dogs to starve to death has been banned for life from keeping animals.
Martin Carr, 27, of 22 Park Way, Whitwell, Nottinghamshire, kept the greyhounds in "appalling conditions" in a garage in Grantham, Lincolnshire, the town's magistrates heard.
The dogs were discovered along with two other emaciated dogs and seven puppies.
Carr admitted cruelty to animals and was given a 90-day suspended sentence and 100 hours of community work.
The court was told the conditions in the garage where the animals were kept was "atrocious".
The RSPCA said officers had visited Carr, who lived in Grantham but later moved to Nottinghamshire, on at least four earlier occasions but he refused their offer of rehousing the dogs.
The dead dogs were discovered at the garage in March.
Carr's partner Dawn Campbell, 31, also of Whitwell, admitted two cruelty charges and was also banned for life from keeping animals.