New Bishop of Lincoln in Westminster Abbey consecration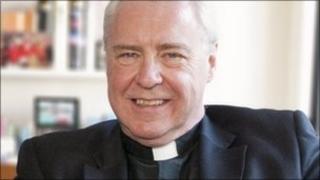 The new Bishop of Lincoln has been joined by more than 400 supporters from Lincolnshire at his consecration at Westminster Abbey.
The Venerable Christopher Lowson was named as the 72nd Bishop of Lincoln by the Church of England in April.
The former steel worker is taking over in England's largest diocese from the Right Reverend Dr John Saxbee who retired in January.
He will be enthroned at Lincoln Cathedral on 12 November.
Max Manin, the chief executive of the Diocese of Lincoln, said the service would be led by the Archbishop of Canterbury and the Dean of Westminster.
The Ven Christopher Lowson said: "It is daunting to be part of a great tradition of people who have all left their legacy in the diocese.
"I pray that I can live up to this great challenge."
The Diocese of Lincoln covers Lincolnshire, North Lincolnshire and North-East Lincolnshire making it the largest diocese in England by area.