Lincoln students spend first night in portable cabins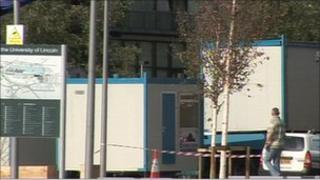 About 70 students have spent their first night at the University of Lincoln in portable cabins because of a shortage of accommodation.
The temporary "village" was set up after a higher-than-normal request for housing.
Dozens of other students were put up in hotels and will be moved into the cabins as more become available in the next few days, said the university.
Lincoln's students' union, said this was "not what students signed up for".
The cabins were brought in last week after the university admitted it was taking longer than usual to find accommodation for students.
It also sent out an email to staff asking if they could help out with spare rooms.
The temporary student village has been built at the Brayford Wharf campus and is intended to eventually house about 140 first-year students.
Temporary measure
Kayleigh Taylor from the students' union said: "We are all singing from the same hymn sheet when we say that it's not what these students signed up for.
"But the blame isn't solely on the university because institutions don't really know until right at the very last minute what number they are taking."
She added that the way forward was to "work with the university rather than against it".
The University of Lincoln said it was continuing to work to source more long-term student accommodation in the city and that rooms were becoming available all the time.
"By the end of this week we are aiming to be able to offer single-occupancy cabins, rather than twin-cabins, to all those students still in the temporary student village," it said.
The university accommodation team said it had experienced a higher than normal request for student housing, with many last minute requests.