Red Arrows announce new line-up for 2012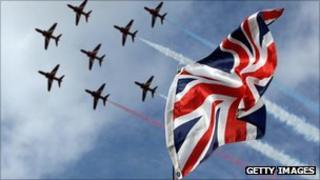 The Red Arrows have announced details of their new line-up for the 2012 display season.
The team will get three new pilots, one of whom will replace Flt Lt Jon Egging, who died in a crash following a display at the Bournemouth Air Festival.
Since the crash in August the team has been flying in an eight-man formation instead of the usual nine.
The new pilots will begin training as a nine-man team at RAF Scampton in Lincolnshire in mid-October.
Each year the Red Arrows' line-up changes, with pilots normally flying with the team for three years.
New recruits
The three new pilots are: Flt Lt Martin Pert from RAF Leeming, Flt Lt Michael Child from RAF Coningsby and Flt Lt James McMillan from RAF Cottesmore.
Sqn Ldr Jim Turner returns to the Red Arrows to take over from Ben Murphy as team leader.
Pilots and support crew leaving the Red Arrows will return to operational duties with the Royal Air Force.
The new Red Arrows pilots all have a minimum of 1,500 flying hours and have been assessed as being above average ability. They have also completed at least one fast jet frontline tour of duty.
Training begins at RAF Scampton as soon as the last display of the current season is completed.
It starts with small formations of three or four aircraft as the new pilots learn flying references and formation shapes.
The Royal Air Force aerobatic team will not generally fly together as a formation of nine aircraft until February, five months after training first begins.
Since the team's creation in 1965 the Red Arrows have flown more than 4,000 displays in 52 countries.