Skegness' Jolly Fisherman is to return home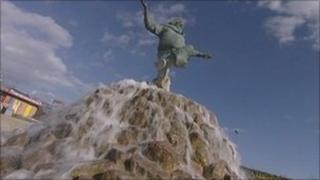 The Jolly Fisherman is to return home as control of the mascot is passed from East Lindsey District Council to Skegness Town Council.
Jolly will be handed back to the town council during the closed season to allow him to settle in gradually.
The mayor of Skegness, Steve Kirk, said Jolly was a "babe magnet" and that people just wanted to see more of him in the town.
He is expected to be under the control of the town council by spring 2012.
'Skegness lad'
Mr Kirk said: "For some time now Jolly has actually lived outside of the town.
"But we all know that he loves Skegness deeply and has decided that it is time to move back."
He said: "It's fantastic news for everybody in Skegness and we'll see a lot more of him when he's out and about.
"Obviously I can't say exactly where he is moving to because he is a very popular figure, so we have to protect him a little bit from publicity.
"Jolly will be able to be a lot more visible in the town, he has been living out of town and travelling in, and I think the price of petrol has got something to do with it.
"East Lindsey have done a fantastic job, but he's a Skegness lad and the people of Skegness are going to look after him now."
Skegness Town Council, which owns the copyright to the original Jolly Fisherman poster, will takeover the role of providing people to dress as Jolly next year.