Digital switchover starts in parts of Lincolnshire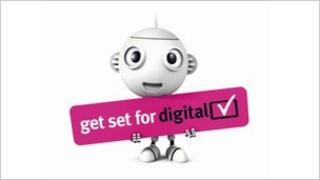 The digital TV switchover has begun in parts of Lincolnshire and east Yorkshire.
The switchover is the process by which the UK's analogue TV signal is turned off and replaced with a digital signal.
Lincolnshire's Belmont transmitter near Louth had its BBC Two analogue feeds turned off on Wednesday morning.
BBC digital channels will now become available for the first time to those watching on local relay channels.
All terrestrial TV services will be off air tonight and are expected to be restored at about 06:00 BST on Thursday.
In areas which are served by relay transmitters, the services are expected to resume by mid-morning.
All Freeview, BT Vision and Top Up TV viewers will need to retune their equipment to regain missing channels.
The second stage will take place on 17 August, when all remaining analogue channels will be turned off.
This will affect BBC One, ITV1, Channel 4 and Channel 5.