'Muslim Glastonbury' held at Lincolnshire Showground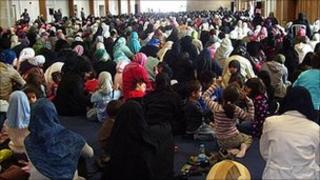 More than 4,000 visitors are expected to attend an Islamic cultural and religious festival dubbed the "Muslim Glastonbury", according to organisers.
Living Islam at the Lincolnshire Showground is a four-day camping event that attracts Muslim families from across the UK.
It is organised by the Islamic Society of Britain as a community celebration.
Organiser Khalid Anis said people had given it the Muslim Glastonbury name as it was "a festival of fun".
"People come together and have a great time," he said.
"It's about people enjoying themselves and expressing their British Muslim identity."
Mr Anis explained that it was not exclusively for Muslims, and everyone was welcome.
"We get visitors who just want to come down for a day trip just to have a look around and enjoy the atmosphere.
"There's something for everybody; sports, games, talks and small seminar discussions. Everybody is welcome."