Council's masterplan to transform Skegness' foreshore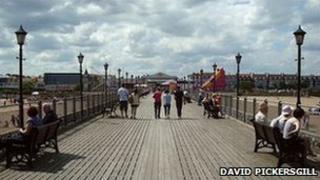 A masterplan to turn Skegness' foreshore into four themed zones has been released by East Lindsey District Council (ELDC).
The council wants to transform the seafront into different areas to attract more visitors to the town.
The proposed zones are sport, family and events, cultural and an eco park.
If the plans are approved, the foreshore from North Parade to Gibraltar Point could be redeveloped over the next three to five years.
Ambitious project
The council said: "What is clear is that there is no returning back to the past - the tourist market has become more sophisticated, more fragmented and more diverse.
"The towns that are most successful in doing this are those where the local community, private sector and public sector have united behind a common vision for their area."
"ELDC's chief executive, Nigel Howells, said: "There are other competitors in terms of coastal towns out there and we need to say come to Skegness because it's very different here.
"If these development briefs are approved by the community we can then start to implement them by building on the success of events like So Festival - hopefully it will attract developer interest."
Glenis Brown, chair of the Skegness and District Chamber of Commerce said it was an ambitious project.
"We need to offer our clients a fresh look and it's going to regenerate the foreshore if we can pull it off.
"But it's a very bleak time to get the cash to do these things.
"We have had plans in the past that didn't please the people in Skegness - but this plan has possibilities."