HMS Boston bell dedicated to St Botolph's Church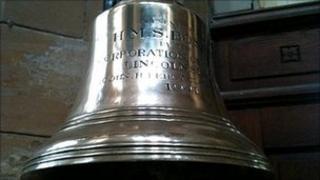 A dedication service has taken place in a Lincolnshire church to welcome a ship's bell.
The bell, which came from the minesweeper HMS Boston, was used on the ship to mark the passage of time, dividing the day into six watches.
It is now mounted on the north-east corner of the tower at St Botolph's in Boston, also known as Boston Stump.
The ship, launched in 1940, was based in the Mediterranean and was present during the Normandy landings in 1944.
Ship's trophy
The bell had been bought by the Boston Corporation, the former name of what is now Boston Borough Council.
It was returned to the town when the ship was sold and broken up after World War II.
There is an understanding that the bell will be returned to the Royal Navy if a new ship is ever named HMS Boston.
Tom Freeston, captain of the bell tower at St Botolph's, said: "When a ship is broken up a ship's bell is classed as a trophy and will go to the Royal Navy Trophy Centre in Portsmouth.
"They have requested that it is put on public display, but the Royal Navy can ask Boston Stump for it back if another ship is built and named HMS Boston."