Lincolnshire man vows to regain hottest chilli record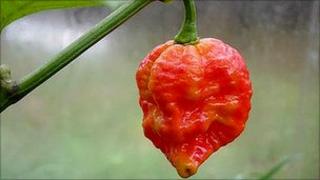 A Lincolnshire chilli grower has vowed to win the world record back for the hottest chilli after losing the title.
The record was held by Nick Woods from Grantham before been beaten by the Naga Viper grown in Cumbria.
But now the record has been beaten again by Australian chilli grower Marcel de Wit with the Trinidad Scorpion Butch T.
Mr Woods' Infinity chilli was first recognised by Guinness World Records as the hottest chilli in February 2011.
'Never say never'
Mr Woods, who runs Fire Foods which specialises in chillies, said he will go for the record again with "an even hotter one this year", but also recognises there is always fierce competition.
"There's a lot of chilli growers in the country now. We're just glad to have got there in the first place," he said.
"We're in talks with a company that makes special polythene for polytunnels which apparently works really well, so never say never.
"We're putting some chillies in for testing later this year and we'll see how we get on."
'An arms race'
The Infinity chilli measured 1.17 million on the Scoville Scale, the measure of a pepper's heat, when it was verified as the then hottest chilli in the world by scientists at the University of Warwick.
To put this in context, a Jalapeno can score anything between 2,500 to 8,000 on the scale.
Andrew Jukes, from the university, described people's obsession with making hot chillies as "an arms race".
The new world record holder, the Trinidad Scorpion Butch T, measured 1.46 million heat units on the scale, beating the Naga Viper which registered 1.38 million.