Arson attack at rabbit breeding centre Highgate Farm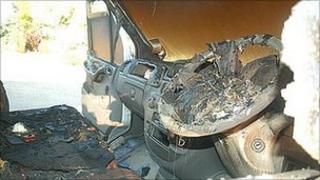 An arson attack on a house at a Lincolnshire farm which breeds rabbits for medical research could have killed someone, police have said.
An incendiary device was thrown at the door of a building on Highgate Farm at Normanby-by-Spital, near Market Rasen, in the early hours of Tuesday.
The farm has been the subject of repeated attacks.
But officers said the attempt to set fire to a property with people inside was "a new level of criminality".
When called to the scene, police also found a van on fire. Both fires were quickly put out.
The vehicle was badly damaged but only minor damage was done to the door and no-one was hurt.
Det Supt Stuart Morrison said: "This is an extremely serious crime that could very easily have led to the people living at the farm being seriously injured or killed.
"It is well known there have been ongoing issues at this site and there has been a previous arson involving a vehicle here, but this obvious attack on a building where people were clearly sleeping takes things to a new level of criminality, which cannot be justified in any circumstances."
An appeal for witnesses has been made.