A windmill in Lincolnshire stars in new CBeebies series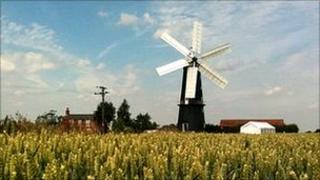 Staff at a windmill in Lincolnshire are hoping for an increase in visitor numbers after a new BBC children's programme was filmed there.
The Sibsey Trader Windmill near Boston was chosen as the on-screen home for the CBeebies programme Baby Jake.
Ian Ansell, Sibsey Windmill's manager, hopes the publicity will help with the windmill's popularity.
He said many places across the country had become visitor attractions "just because they've been on television".
"Being as Lincolnshire has lost so many tourism organisations such as Visit Lincolnshire, it will be good to get some publicity and get people a bit more interested in heritage."
Mr Ansell also explained there was quite a process involved in permissions for using the windmill and even when the cameras started filming "they had to wait for the field of wheat to be the right colour which meant they had to delay harvesting".
The programme creator Maddy Darrall added there was a lot of good luck with the production including "a double rainbow in the sky at the location - it really was an incredible sight".