Fire crews tackle metal recycling blaze in Lincoln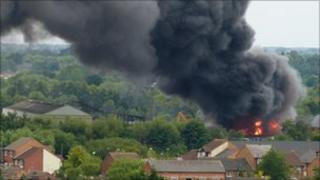 Fire crews are tackling a blaze at a metal recycling plant in Lincoln.
Eight fire engines were called to European Metal Recycling on Beevor Street at about 1600 BST.
Eyewitnesses said the sky near the University of Lincoln student accommodation area was black with acrid-smelling smoke.
The fire service said it had received multiple calls from members of the public about "a fire involving a large amount of scrap metal".
Sean Taylor from Lincolnshire Fire and Rescue said: "Firefighters are making steady progress in extinguishing the fire.
"Because of the thick black smoke over the city, the incident looks worse than it is.
"We have no safety concerns, however, advice to members of the public is that if smoke is heading your way, closing your windows would be a good common sense measure."
No-one was injured in the fire and an investigation has started into the cause of the blaze, he said.