Original Jolly Fisherman painting to feature on BBC TV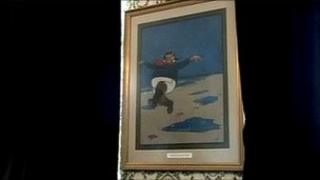 The original Jolly Fisherman painting is to feature in a BBC television programme about Britain's hidden paintings.
The programme will feature the picture which hangs in Skegness Town Hall as part of a look at travel posters.
It was commissioned by the Great Northern Railway to encourage visitors to take the train on their seaside breaks to Skegness.
The travel poster features the slogan "Skegness is so bracing".
Three shilling excursion
The poster, commissioned in 1908 for 12 guineas, became synonymous with the Lincolnshire coastal town.
It was first seen that year by tourists who travelled from Kings Cross on a special three shilling excursion.
The commissioned artist was John Hassall - the son of a naval officer from Kent.
During a visit to Skegness in 1936 he is reputed to have said that it was "even more bracing and attractive than I had been led to expect".
In Hidden Paintings of Yorkshire and Lincolnshire, Linda Barker visits the Mayor's Parlour in Skegness Town Hall to see the painting and find out about its history.
The programme is being shown on BBC One on Sunday at 2225 BST.