Nimrod UK spy planes could be reprieved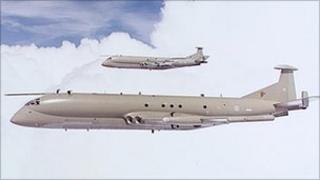 A decision to scrap two Lincolnshire-based spy planes could be delayed, a Tory politician says.
The MoD has said the planes, based at RAF Waddington in Lincolnshire, would be scrapped at the end of June.
But Newark MP Patrick Mercer, former member of the Defence Select Committee, said the planes were still needed for surveillance work in the Middle East.
"The aircraft are very capable and can carry on - at least in the medium term," Mr Mercer said.
Surveillance 'compromised'
The planes were to be scrapped three months ago but were given an extension because of the Libyan conflict.
The Nimrods have been in operation in the Middle East providing what the Ministry of Defence has described as "vital support" to operations.
"I just wonder if we are going to see another last-minute saving of these airplanes. I think that is a possibility," Mr Mercer said.
"We are now looking right down the throats of Syria and Yemen where airborne intelligence gathering is crucial."
The MoD said the job currently performed by the Nimrods would be taken up by aircraft from other Nato countries when it leaves service and there were no plans to reverse the decision.
Shadow defence secretary Jim Murphy said the UK's surveillance capacity could be compromised if Nimrod aircraft from RAF Waddington were withdrawn from service.
The two planes were due to have been officially retired at a ceremony at RAF Waddington in Lincolnshire in March.