Lincolnshire paedophile ring's web server dimmed lights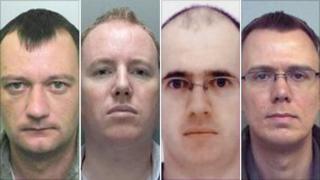 A gang of paedophiles used such a large internet server to store millions of indecent images that when it was switched on by detectives the lights in the building dimmed.
Officers in Lincolnshire who helped to jail the gang had to sift through more than five million indecent images of children in a four-year operation.
The images and movies were so "horrific", those working on the case, which spanned 45 countries, were regularly offered support from psychologists.
On Monday, two men from Lincolnshire, one from Sheffield and one from St Albans were jailed at Nottingham Crown Court.
They ran a web-based, subscription news service, which was a front for an online library of indecent images of children, distributed around the world.
Paul Rowland, 35, and Ian Frost, 35, both of Martins Dale in Woodhall Spa, Lincolnshire, were each jailed for 33 months for distributing, making and possessing indecent images of children.
Paul Frost, 37, from Sheffield was jailed for 15 months for distributing indecent images of children.
Rural empire
Ian Sambridge, 32, of St Albans was sentenced to 12 months, suspended for two years, also for distributing indecent images of children. He was also ordered to carry out 240 hours of unpaid work.
Based in the hamlet of Martins Dale in rural Lincolnshire, Ian Frost and Paul Rowland ran a number of web-based services, including Athenanews.com which charged subscribers to access news groups or discussion forums.
Det Supt Paul Gibson, of Lincolnshire Police, who led the day-to-day running of Operation Alpine, said what started out as a routine inquiry, quickly escalated into an international investigation.
"When we searched Ian Frost's home in 2006, we found a huge server sat in the lounge and soon realised it wasn't a routine investigation and contacted Ceops (Child Exploitation and Online Protection Centre)," he said.
"We started to look at what was on the server and realised we were dealing with the commercial distribution of indecent images of children around the globe.
"Officers looked at five million images and read through one-and-a-half million emails.
"We found out they had been running a news service for seven years and had been using it to distribute indecent images to 45 countries, earning themselves about £2m," said Det Supt Gibson.
"You would have to be very technically proficient to get these news services up and running and Ian Frost was certainly very versed in the IT world," said Det Supt Gibson.
"It couldn't be done by the average individual, you need a really detailed knowledge."
'Saving children'
But he added the priority of the investigation was always the protection of children.
"Every one of those images is a window of opportunity to try to identify that child and make sure that child is safe," he continued.
"Although it's horrific, it can be seen as a positive opportunity to try to reduce the risk to children."
Being one of the smallest police forces in the UK, Det Supt Gibson said he was pleased his team had "taken on a worldwide investigation".
"[It is] probably unprecedented for Lincolnshire, and it was hugely successful in terms of what we have achieved," her said
So far, 55 offenders have been dealt with for the possession of indecent images of children, said Lincolnshire Police.
Other cases are being investigated or are going through the courts.