Monkey behaviour offers clues to conflict management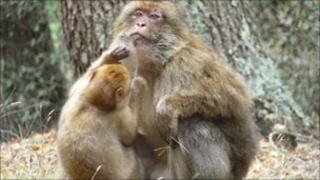 Scientists studying a rare species of monkey in Morocco claim that their behaviour could offer clues to resolving human conflict.
A team, led by a University of Lincoln researcher, studied Barbary Macaques for the past three years.
He claims the research reveals clues to why humans feel the need to patch up their differences.
Dr Bonaventura 'Bino' Majolo said the study "helps us understand more about the evolution of social behaviour".
"Reconciliation occurs in several social species and it seems to be important when there's a need to establish and maintain friendly relationships," he added.
"It's also true of chimpanzees and even human children - it appears that the closer the relationship between individuals, the more effort is put into resolving conflict", he said.
'Harmonious relationships'
The international project involves researchers from Lincoln, Roehampton, Gottingen in Germany and Gent, Belgium, along with Morocco's Ecole Nationale Forestière d'Ingénieurs.
They believe this endangered primate, whose numbers have declined from 70,000 to 5,000 in the past 30 years, could offer precious clues as to how and why different aspects of society developed in social species.
"We are just about to start publishing our findings after collecting data for the past three years and we do hope to continue our work in Morocco for as long as possible," said Dr Majolo.
"The study has revealed interesting parallels between macaque and human society - from the perils of over-indulging on junk food, to the underhand tactics males will employ to usurp their rivals in wooing a mate.
"Looking at what factors affect reconciliation in primates might help tell us why this mechanism to manage conflict evolved and whether it requires a species to have complex cognitive abilities.
"We hope to learn more about the origins of behaviours critical to preserving harmonious relationships in complex societies.
"The Barbary Macaque is under real threat from habitat destruction, logging and other human activities, such as the theft of infants for the pet trade.
"So it's really important we study it before it disappears altogether from the wild," he said.