Lincolnshire circus owner welcomes wild animal decision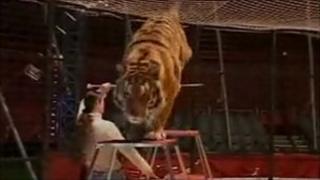 The owner of the only circus in England that features tigers in its act has welcomed the news there will not be a ban on wild animals in circuses.
Martin Lacey, from Lincolnshire's Great British Circus, said the decision was a victory for common sense.
The government has withdrawn its proposal after legal advice suggested a ban could breach the Human Rights Act.
Environment secretary Caroline Spelman said "higher welfare standards" would now be enforced.
'Flying colours'
Mr Lacey said: "We are very happy that's its now been made official.
"I believe there is a mass of support for animals in entertainment and people should have the freedom of choice - you can only watch so many jugglers before it gets a bit boring.
"My animals are really well looked after and what people don't consider is what would happen to them if they were sent to a zoo.
"They enjoy what they do and even before this bill went to parliament we were inspected by independent Defra vets and passed with flying colours.
"Only about 20,000 have signed a petition opposing the use of circus animals, which is a drop in the ocean and is not worth talking about."
During a parliamentary debate MPs jeered environment minister Jim Paice who suggested banning wild animals in circuses could breach human rights law.
'Cowardly position'
To howls of laughter, Jim Paice said legal advice suggested a total ban "might well be seen as disproportionate action" under the Human Rights Act.
However, Labour's Mary Creagh said the department was being "pathetic" and accused ministers of "hiding behind human rights legislation".
And, Green MP Caroline Lucas called it a "cowardly" position, citing previous examples of animal welfare issues where the government had gone ahead, despite legal advice.
"Could you have a bit of spine?" she told Mr Paice.