Lincolnshire arson probe police release firework photo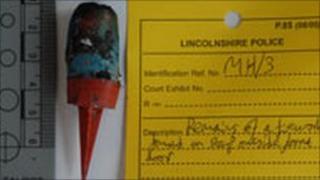 Police have released a photograph of a firework they believe was used in an arson attack on the home of an elderly couple in Lincolnshire.
CCTV footage of a cyclist with a backpack filmed 30 minutes before the fire on 4 May has also been released.
The 17th Century cottage of Peter and Sylvia Cox, 82 and 74, has been attacked by arsonists four times.
The couple were moved to a secret location after the fourth attack on their home in Castle Bytham.
Det Insp Dave Swan said: "With regard to the photograph of the firework I would ask anyone who has any information about its origins, or suggestions as to who may have bought it or owned it to contact us."
The cyclist was seen on the High Street in Castle Bytham near Grantham in the early hours of 4 May.
The three previous attacks at the house took place in August, October and March, said police.