Blue plaque tribute for two Lincolnshire WW1 heroes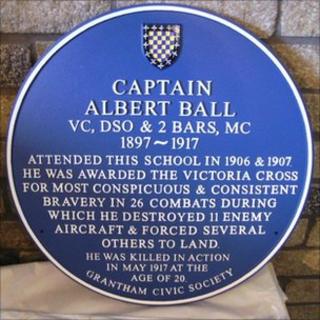 Blue plaques honouring two Victoria Cross recipients from WW1 have been erected in a Lincolnshire town.
Grantham Civic Society has introduced the plaque scheme to celebrate the lives of its most famous people.
The plaques for Captain Albert Ball and Lance Corporal Joseph Tombs were unveiled in a ceremony at the town's King's School.
A total of seven plaques are planned, including for doll maker Augusta Montanari and Sir Isaac Newton.
Red Baron
Society spokesman Courtney Finn said: "The plaques will perhaps make people more proud of the town's heritage and the great people who lived here.
"Captain Albert Ball, for example, is reputed to have been shot down and killed by the Red Baron squadron in France," he said.
"Grantham is quite under-researched and it has a huge history that many people know very little about - so hopefully this series of seven blue plaques will make people more interested in the town's history."
Plaques honouring Lance Corporal Walter Parker, American founding father Thomas Paine and Bishop John Wand will be erected later this year.
Mr Finn said: "Perhaps in due course we can consider our first lady prime minister, Margaret Thatcher.
"Although English Heritage guidelines say you must wait at least 100 years from birth or 20 years after someone has died before erecting a plaque to them."