Skegness building to get new lease of life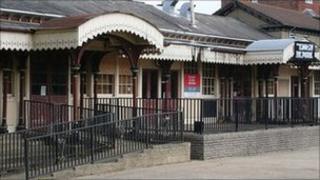 One of Skegness' best known old buildings, which has been empty since 2007, could be refurbished by the district council.
East Lindsey District Council said it is looking at refurbishing the Inn on the Park in Tower Gardens to make it more attractive to potential tenants.
The former pub, which dates back to 1879, has been described as any eyesore by some local residents.
Council leader Doreen Stevenson said it was part of the heritage of Skegness.
"It is in a state of disrepair and we are looking at estimates to carry out refurbishments," she said.
'Golden opportunity'
"One or two people have expressed an interest in possibly becoming tenants to taking out a lease, so we need to get it smartened up and make some improvements.
"It will take a capital investment from the council - but I'm convinced this is the way to go.
"People do want to see this happen - it is part of the heritage of Skegness and it's been here for a long time.
"I think it's a golden opportunity for the district council, the town council and the community to work together to ensure we have a building the town can be proud of."