Willow protection for Sir Isaac Newton's apple tree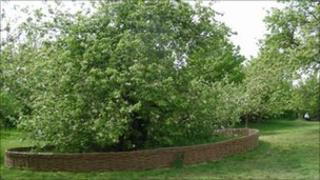 Sir Isaac Newton's apple tree has had a willow fence erected around it to protect its root system and branches from visitors.
The 400-year-old tree first blew down in 1820 and has since re-grown with its branches very close to the ground at Woolsthorpe Manor in Lincolnshire.
Staff at the manor said there had been an increase in people visiting to see the tree that inspired Newton.
Visitor numbers have increased from 15,000 to 33,000 a year.
Kim Barnett, of the National Trust, said: "It's more a preventative measure to protect the tree's roots and I think it blends in beautifully.
"We are just trying to discourage people from wriggling under the tree to have their photograph taken - so we've put this little bit of willow work around the tree to protect it," she said.
"The tree's popularity seems to have really increased, which could be down to the piece we sent into space last year and the media coverage it received.