Olympic torch visit is 'great honour' for Lincoln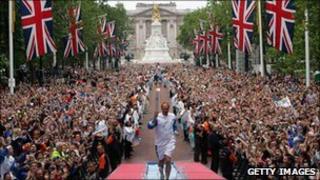 News that the Olympic torch is to visit Lincoln has been welcomed as "one of the greatest sporting honours".
Incoming council leader Ric Metcalfe said seeing the torch would help inspire local people to get involved in healthy activities.
Lincoln will host the torch relay overnight on 27 June 2012 - one month before the opening ceremony in London.
It will be welcomed at a special cultural event organised by the local authority.
'Inspire many'
Mr Metcalfe said: "Playing host to the Olympic flame is one of the greatest sporting honours a city can have."
"The Olympics is built on three main values; excellence, friendship and respect.
"The flame itself is a symbol of friendship and our aim is to use this opportunity to extend the hand of friendship across all of our communities.
"I'm sure seeing the flame pass through the city will resonate with local people and will inspire many of them to take up sport and get involved in activities they may never have tried before.
"We will be working hard to ensure the evening celebration brings out all that is great about this city and we want there to be a real focus on the young people of Lincoln who will have the opportunity to be part of the legacy of the 2012 Olympics forever."
A total of 8,000 torch bearers will carry the flame for approximately 300m each as part of its tour of the UK.
It is hoped the torch will come within one hour of 95% of the UK population.
The relay will begin at Land's End, Cornwall, on 19 May 2012 before heading through towns and cities across Britain. Its final destination at the Olympic Stadium in Stratford on 27 July will mark the start of the Games.
Full details of the route will be announced next year by the London Olympic organising committee.