Top Gear team make surprise Lincoln road-test stop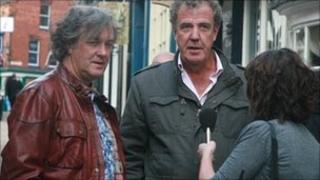 The Top Gear team have stopped off in Lincoln while road-testing two electric cars in a surprise visit.
Jeremy Clarkson and James May were passing the city in a Nissan Leaf and a Peugeot iOn when they found they were low on fuel.
They drove into Lincoln only to find that there are no official charge points for electric cars.
James May said: "To be brutally honest our visit to Lincoln is a matter of circumstance."
"But we are rather glad it happened," he added.
'Middle-aged and portly'
"We've learned a lot about medieval history, Lincoln Cathedral and the Norman conquests."
Mr Clarkson added: "It's amazing how many people turned out just to watch two portly middle-aged men fooling around.
"Although we were testing two electric cars in a genuinely sensible way to see how they work.
"So, while they are charging we're going for a cup of tea."
The cars were taken to be charged at the Brayford campus of the University of Lincoln.