University of Lincoln to charge maximum fees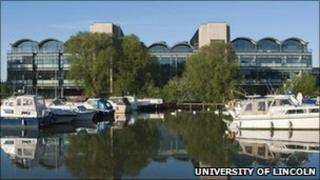 The University of Lincoln has announced it plans to charge the maximum annual tuition fees of £9,000 from 2012.
Vice-chancellor Professor Mary Stuart said the move would "allow the establishment to grow and enhance the student experience".
The decision was taken by the university's board of governors.
So far, at least two thirds of England's universities want to charge the maximum fees for some or all of their courses, a BBC survey suggests.
'Unfortunate position'
The University of Lincoln was created in 2001 and has more than 10,000 students on campus.
The university's deputy vice chancellor Professor Scott Davidson said: "The university, in order to make ends meet, had to decide on a fee that would enable us to cover our costs, to make some investment in the capital of the university but also to provide a fund to assist access for students who would not otherwise think of coming to university."
Dan Derricott, of the students' union, said increased fees would deter students going away to university.
He said: "We find ourselves in an unfortunate position.
"I think what we'll see, as a result, is that more students will stay at home.
"They won't go for a university that offers a course they want to do or offers the best course in that subject, they'll look for a course that's closest to their home and they'll look to save money, which is a shame."