Large find of medieval artefacts in Lincolnshire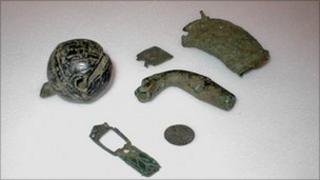 More than 45,000 medieval artefacts have been unearthed in Lincolnshire.
Excavations at the Crown Estate in Sempringham, between Sleaford and Bourne, involved 10 archaeologists and took almost seven weeks to complete.
They unearthed thousands of artefacts including a tap, belt buckle, animal bell and chalice cover.
The items are currently being held and studied at the Lincolnshire Archives. Although not on public display they can be viewed on request.
Surveys of the land taken with aerial photography had indicated the layout of a former 12th Century priory, similar in size to Westminster Abbey.
'Extraordinary' tap
One of the most talked about finds from the dig, undertaken on behalf of English Heritage, was a rare tap.
Paul Cope-Faulkner, a medieval expert from Archaeological Project Services, who participated in the fieldwork said: "We didn't expect to find anything as extraordinary when we began the project.
"To unearth a tap in this condition is incredibly rare. Only six similar items exist in the country."
The priory itself was built by Saint Gilbert of Sempringham.
He was the only English saint to have founded a monastic order.
The priory would have been stripped of many assets during the reign of King Henry VIII.
Mr Cope-Faulkner said: "During the dissolution of the monasteries in 1538, Henry VIII disposed of their assets and metal items such as this were usually put into furnaces and melted."