Skegness lifeboat naming halted by emergency callout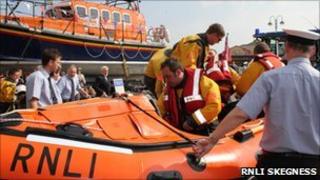 Lincolnshire's newest lifeboat was called out to an emergency in the middle of its naming ceremony.
A crowd had to be cleared from around the new Skegness RNLI vessel - Peterborough Beer Festival IV - so crews could assist a man at Winthorpe.
He was reported to be in difficulty after coming off his water scooter, but was ashore when the rescuers arrived.
The ceremony restarted soon afterwards and a pint of local beer was poured on the boat's bow to complete its naming.
Senior helmsman Tony Kelly said the possibility of being called out during the event on Saturday had crossed the minds of the crew beforehand.
He added: "Fortunately, this was a quick, simple shout that took around 20 minutes so we could get back to the station and carry on quite quickly."
Funds for the boat were collected from Peterborough Beer Festival-goers over four years with a total of £37,000 raised.
It was officially named by David Murray, chairman of the Peterborough branch of the Campaign for Real Ale.
Batemans XB beer, supplied by Batemans Brewery in Wainfleet, was poured over the bow instead of champagne.