New bishop is appointed to Diocese of Lincoln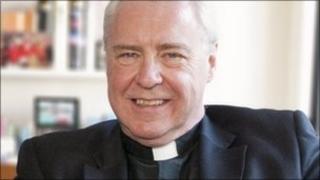 A former steelworker has been appointed as the 72nd Bishop of Lincoln, the Church of England has announced.
The Venerable Christopher Lowson's nomination was approved by the Queen and he will take the post in England's largest diocese later this year.
While undertaking his initial training for the ordained ministry he worked at steelworks in Consett, Co Durham, as a labourer in the coke ovens.
He will replace the Right Reverend Dr John Saxbee who retired in January.
'Great tradition'
The Ven Lowson, who is currently serving as Director of Ministry for the Archbishops' Council, said: "It is daunting to be part of a great tradition of people who have all left their legacy in the diocese.
"I pray that I can live up to this great challenge.
"I am very much looking forward to moving to Lincoln, and exploring the wonderful diversity in the Diocese, and to leading God's work here."
The Lord Bishop of Norwich, the Right Reverend Graham James, who is also chair of the Church of England's Ministry Division, said: "Christopher Lowson has the gentle authority of a fine pastor and the clarity of mind of a superb teacher.
"He's been greatly appreciated as a parish priest, archdeacon and most recently as Director of Ministry Division.
"Lincoln will soon count itself fortunate to have Christopher as its bishop."
The Diocese of Lincoln covers Lincolnshire, North Lincolnshire and North-East Lincolnshire making it the largest diocese in England by area.