Pilot's pride at first Typhoon combat mission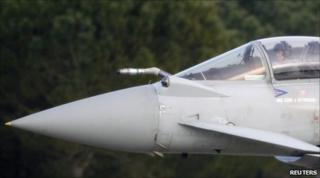 A fighter pilot has spoken of taking part in the first RAF Typhoon mission into hostile air space.
Wing Cdr Jez Attridge flew from Gioia del Colle airbase in Italy to patrol Libya's no-fly zone as coalition operations entered a fourth day.
Wing Cdr Attridge, normally based at RAF Coningsby in Lincolnshire, could not reveal details of the operation but said it went "very well".
The mission lasted five hours and saw the jets refuel three times.
The pilot said the training given to the force's airmen and women had left them ready to take on the Libya mission.
"Our philosophy is if you stay ready, you don't have to get ready," he said.
"(The operation) fits the template of what we normally train to do. I can't talk about mission specifics but we have the capability to meet any threat that is out there.
Short notice
"The training is to meet specific threats we might encounter within the air space. Our training is very varied and covers threats you might find in the Libyan air space."
He added: "I'm very proud that we've shown the Typhoons can meet modern-day missions easily.
"There's a lot of excitement because everyone likes to do the job they're paid for and the heartening thing for me was the amount of support put in to make sure the aeroplanes could be deployed at very short notice."
The aircraft are flying from the base in southern Italy and the RAF praised its hosts.
Ground fighting
Gp Capt Martin Sampson said: "We've been welcomed by the Italians here. We have a fantastic working relationship with them at the moment.
"They've given us every level of support that we need and behaved like a coalition partner we know and trust."
Tornado GR4 ground attack planes also took part in Monday night's operation, flying armed reconnaissance missions from their base at RAF Marham.
The Ministry of Defence said the military effort was having a "very real effect" and said Col Muammar Gaddafi's assault on Benghazi had been "stopped in its tracks".
However, fighting is still reported to be continuing on the ground in Libya.