Lincoln's bid to become a World Heritage site fails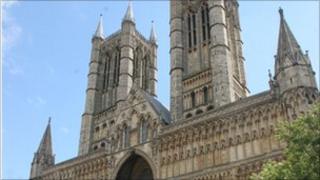 Historic Lincoln has failed in its bid to make a shortlist for World Heritage site status.
The area of the city which includes Lincoln Cathedral was one of 38 sites in the UK competing to be chosen.
Eleven made the list, including The Forth Rail Bridge, Cumbria's Lake District and the Jodrell Bank observatory in Cheshire.
Mary Powell, tourism development manager for the county council, said the final list was "a bit strange".
She said: "It's almost like they only want to have one of everything, which is all very well, but who decides that the one that got in first is the most worthy of World Heritage status.
"I think they should have a whole bag full of cathedrals."
Durham Castle and Cathedral already has World Heritage status, as does Canterbury Cathedral.
The list of 11 was whittled down from landscapes, buildings and industrial heritage sites submitted to Unesco for consideration.