Free 'alternative art college' opens in Lincoln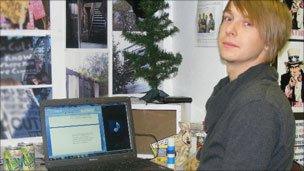 An art student from Lincoln has opened an "alternative college" in his living room as a protest against rising tuition fees.
Paul Stewart, a fine art student, set up the Alternative Art College because he believes education should be free.
The 20-year-old's idea was to create a place where people learn about a topic without having to pay for it.
Annual fees could rise to £9,000 next year. Mr Stewart said: "You can't put a price on education and knowledge."
The college does not offer formal qualifications but welcomes people to get involved and take part in debates about "art as commentary" and the relationship between art and politics.
Mr Stewart said: "I have always involved politics in my art work, the college is about protesting in a non-aggressive way and providing people a place where they can develop knowledge.
"Students could soon pay three times more than me for the same education.
"This is my protest against the system, I believe we should have an alternative."
Mr Stewart has already held several events at the college including a talk by one of his university lecturers where the topic of "art as protest" was discussed.
"The first event was brilliant, we managed to squeeze everyone into the living room, it made for an interesting debate," he said.
Fellow student Thomas Cuthbertson said: "I think it's a brilliant idea that should continue, it is a bit quirky and unusual."
From September 2012, universities in England will be allowed to raise tuition fees to up to £9,000 per year. The controversial policy, backed by parliament in December 2010, has sparked angry street protests but several universities have already announced they will charge the maximum amount.
Related Internet Links
The BBC is not responsible for the content of external sites.